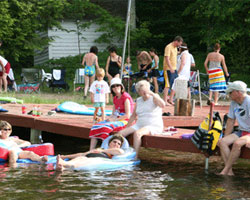 Family Vacations and Reunions
Looking for the perfect setting to hold a family reunion or vacation with multiple families? The Buena Vista Lodge is designed to handle large groups of guests, yet maintain the intimacy you desire with your own family. Multiple plush bedrooms and bathrooms allow you all the comforts of your own retreat, while sharing lasting and special moments with family and friends.
Just within the lodge itself there is plenty of room to find a quiet space when you need it and yet still be connected with the group. This is most welcome if the weather is uncooperative and you need to rely on the entertainment opportunities within the lodge.
The lodge property also makes for ideal family vacations because it is very private and secluded on its own 70 acres. This allows a certain piece of mind that family members are isolated from outside traffic and have plenty of room to enjoy the natural beauty around the lodge without interference. For the active members of the group be sure to visit the Activities section to see what other opportunities await.