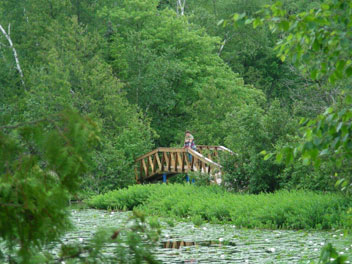 Summer Activities
Lasting Memories From An Unforgettable Location
Here are a few suggestions for making the Buena Vista Lodge your next summer getaway destinaiton.
Power Away Your Stress
With a full compliment of power sports equipment for rental at local businesses, you and your guests will never be at a loss for exhilaration. With several rental spots to choose from you're sure to get the perfect machine for the job or just bring your own.
Whether your pleasure is walking or riding, you'll have plenty of free space to play. The Augustyn Springs ATV trail is just minutes away, over 16 miles in length, and is open year round.
Summer In Northern Wisconsin. Case Closed.

It's hard to imagine a better Northwoods retreat. You have miles of trails, acres upon acres of water, and of course, the bountiful, unspoiled shoreline-all yours to explore as you please.
Of course not all fun needs to be had outside. For those warm summer nights and lazy afternoons you'll find the Buena Vista Lodge continues to impress.
Northwoods Wisconsin - An Outdoorsmen's Dream
Clear water is good for more than just admiring, as the acres of pristine water mean anglers have plenty of reasons to rejoice. Local bait and tackle shops means getting the right gear is a short drive away.

Whether fishing quietly along your own private shoreline or boating along 1300 acres of water, Pickerel Lake holds an abundance of trophy Bass and Northern Pike.

If you prefer something more physically demanding, the lodge makes swimming, waterskiing, jet skiing, or pontooning an absolute joy. If want to stay dry, perhaps golf is more to your liking?

Summer in Wisconsin also means miles of beautiful trails are yours to explore. Traverse the Lodges 70 Acres of private land or take a short trip to the Augustyn Springs ATV Trail. Wolf river rafting is a short 30 minutes south of the lodge.
Leave Home Without The Inconvenience Of Leaving Home
When you feel the best possible way to spend your day is by doing as little as possible, the Buena Vista Lodge responds by providing you with every modern convenience to make that happen.

No luxury is spared when you make the Buena Vista Lodge your retreat headquarters.

With just over 10,000 square feet of living space and sweeping vistas of Lake Pickerel, your mind enters into a sense of open-endedness and relaxation. Nothing feels rushed so you're free to live as you wish.

Experiment with that new dish while utilizing the fully functional and modern kicthen. Wonder how you lived without that island or just relax in an easy chair as the steaks grill outside.
A Night On The Town Without The Drive Home
The Buena Vista Lodge has so many ways to entertain the tough part is where to start.

For those who are young or young at heart, the downstairs entertainment room features, a full sized pool table, foosball table, shuffleboard and TV - all situated in front of a large stone fireplace.

Head upstairs to find ample room for entertaining your guests, then dazzle them with a spacious dining area and fully functioning bar.

For those warm summer evenings you find the enclosed vestibule and connecting deck area a perfect place to watch the sunset shimmer across the lake.
What Shall We Do Tomorrow?
After dinner head upstairs to find yet more room and ways to entertain. The second and first floor meet in an incredible cathedral style balcony, providing some of the most spectacular views of the lake you'll find anywhere.

From here you can choose form a variety of activities, from ping-pong to relaxing with a good book, or watch your favorite game on the big screen TV.

When ready to retire you can choose from over 9 bedrooms on any of the three floors. The upstairs has bedding well suited for children or teens, as the beds are singles and two to a room. The ground floor and lower level each feature full bedrooms, complete with walk-in closets, full dressers, and individual temperature controls.